I have been renovating my home ever since I bought it. I'm at the point now where I'm buying those final touches: the accents pieces known as décor. The next purchase was a lamp that would suit the corner of my bedroom. One that's bronze or gold and has a lampshade that's off white to match the décor of the room. I had been looking for this lamp for about a month by shopping in local stores, and casually dropping into a lighting retailer now and again just to see what's available, but nothing caught my eye.
I took my search online. In the time of COVID, I've gotten a little more comfortable with buying online (who hasn't with a huge range of products and free shipping?). I found a really great website that only sells lamps. With hundreds of choices, I spent about an hour checking out the different styles and finally landed on one that looked perfect. It was the right height, the right color and best of all, it was on sale.
At $42 dollars I was beyond excited to have found a lamp I loved. I put it in my cart, and that's when I realized not only did I have to pay shipping fees, it's in USD. Living in Canada, I am not sure I want to pay the exchange rate. After already filling in most information, including my shipping and email address, I abort the cart without payment.
While I'm online visiting websites for the next two weeks I saw a number of retargeting ads. These are display ads showing up with images of the very lamp I loved in banners and side bars. It wasn't until I received an email from them asking me if I still wanted the lamp that my interest was pushed to a decision. The email was a notice that the sale would soon be over. That's when I returned to the website and purchased my lamp.
I justified the extra costs of the shipping and exchange rate by the fact the lamp was on sale, and even with the additional costs, it was lower priced (at a total $89.63 CDN) than any other lamp I had already purchased for my home. For the style and value, I was happy with my purchase. That's the beauty of retargeting ads through Google, and remarketing by email – they have a higher conversion rate than pure paid media.
About 2 weeks after receiving the delivery, I got an email asking my about my post-purchase behavior. Another excellent remarketing tactic to get feedback and a good review.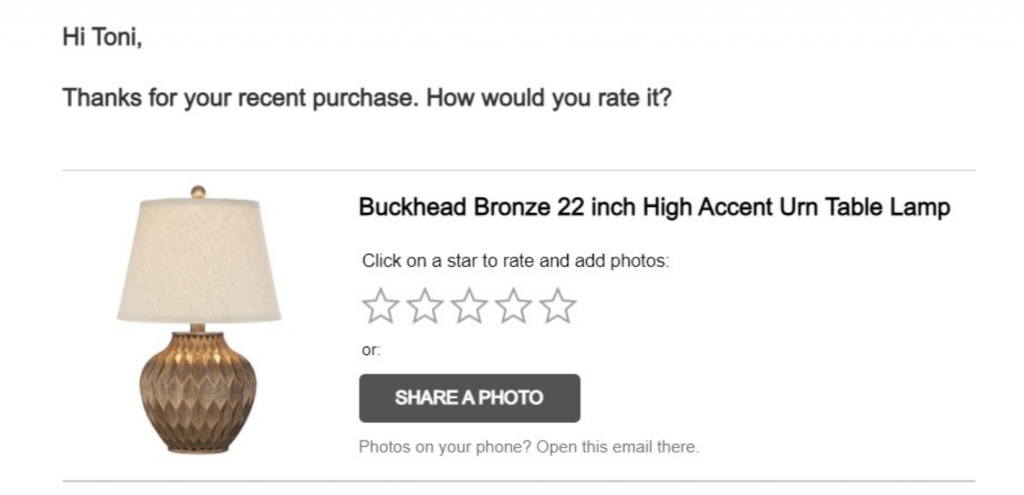 What is Retargeting vs. Remarketing?
Retargeting is an online advertising tactic that helps a brand get in front of a buyer who visited a website or social media platform. It incorporates the use of cookies to follow the user around the Internet. When you see those familiar ads appearing in banners or side bars, you know you've been "cookied."
Remarketing is similar to retargeting, but it's based on email interaction instead. It works by collecting the email address of users to send them an extension of their online search in an effort to motivate them to buy a product by keeping it top of mind.
The research tells us that, for most websites, only 2% of traffic converts on the first visit. Retargeting and remarketing campaigns can be effective in the buyer journey (shown on the funnel below) where they drive a high ROI by giving a brand another opportunity to convert those "maybe" or "not right now" customers.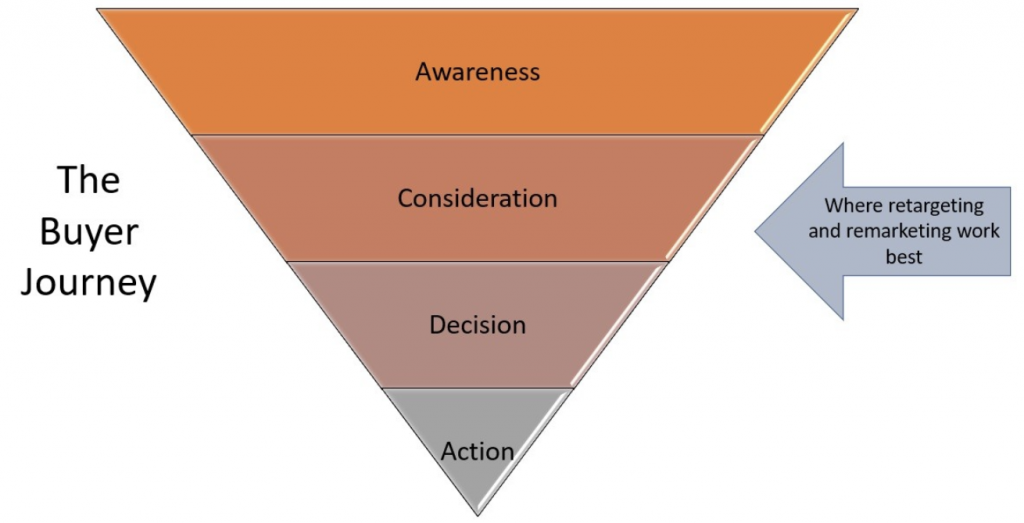 Remarketing, by way of email, is a highly effective approach. Once a user provides their email address through gated content (i.e. downloads, newsletter signups, etc.), it can be used to reintroduce a brand to an already interested potential customer by sending relevant content directly to them via email. By segmenting users through analysis of their behaviors, a remarketing campaign can be very effective in delivering quality content to an already engaged user.
How to Retarget on Facebook vs. Google
Facebook is also an effective advertising platform, especially for a B2C market. The concept is the same as with Google ads: someone visits a website from a Facebook ad, they're tagged with a code and then display ads will start to show up in their timeline. With an average of $0.39 per click, trying Facebook retargeting ads can be a great option at a reasonable cost. Retargeting on this platform can be done in a few steps that will start capturing your audience's attention right away.
With Google, display ads will show up while users browse the range of websites in the Googles Display Network. Start by targeting those users who have viewed the homepage of a website. Once you have your Google AdWords account set up, you can start to implement retargeting in a few steps.
"Don't push people to where you want to be; meet them where they are." ~ Meghan Keaney Anderson, VP Marketing at HubSpot
The Return on Investment
When all is said and done, what we really want to know is what's the return on this tactic? Is it working to achieve our KPIs? With retargeting and remarketing, the cost can be lower than a regular PPC search ad. In general, a Google PPC search ad can have an average cost per click of $2-$3; a remarketing ad has an average cost of $0.25-$0.60.
Some Tips for Retargeting and Remarketing
Are you ready to try retargeting or remarketing as a part of your digital marketing strategy? Here are some considerations:
Get to know your target audience's behaviors by analyzing what they do on your site to give them more of what they are interested in.
On that, make your retargeting ad compelling with content (visuals and messaging) that appeals to your target audience. If possible, segment your audience and give them more customized content.
Have an intriguing subject line to improve the open rate of an email / newsletter. That's what made me decide to purchase the lamp. Once I gained awareness of the website and the product I wanted, retargeting ads kept bringing me back to consider the purchase. It wasn't until an email arrived with the subject line: "Sale Ending Soon! Are you still interested?" that I made the decision to buy.
Have an inspiring Call to Action. If your KPI is about conversions, you'll want to make sure your ad recipient does something. A good objective is to get them to click back to your website to continue the buyer's journey.
Your marketing budget should include an integrated approach with a mix of tactics that will appeal to your market. Digital paid media can be expensive, but if done right, retargeting / remarketing might be the right choice for your business.
Like this article? Please share.
Toni Guffei is a Marketing Strategist who works with growing and changing companies.
Follow on Twitter: @tonironi