As a marketing strategist, I often get asked to explain the acronyms that are used in the digital world. A couple of the terms that can be the most confusing are SEM and SEO. In this article, I'm going to talk about what each of them are, why you need them for your business success and what steps you can take to start using them in your marketing plan.
"Google only loves you when everyone else loves you first" ~ Wendy Persall
What's SEM?
Search Engine Marketing (SEM) includes paid advertising online to drive traffic to your website. There are a variety of ways to create and deliver paid content online, including paid search ads. Have you ever noticed when you search on Google for something that the first few listings on the first page have a little box in front with the initials AD? These are paid ads. That company has created an ad campaign on Google using keywords.
What's SEO?
Search Engine Optimization (SEO) is the organic way to get your website to show up in a search. Good SEO includes a number of factors to consider. This is not an easy task as the research indicates Google uses up to 200 different factors to assess a website for how it will be naturally ranked.
Here's a picture of SEM vs. SEO looks like in a search. In this example, the keywords "legal services" were used. The results show one ad at the very top, followed by the organic results.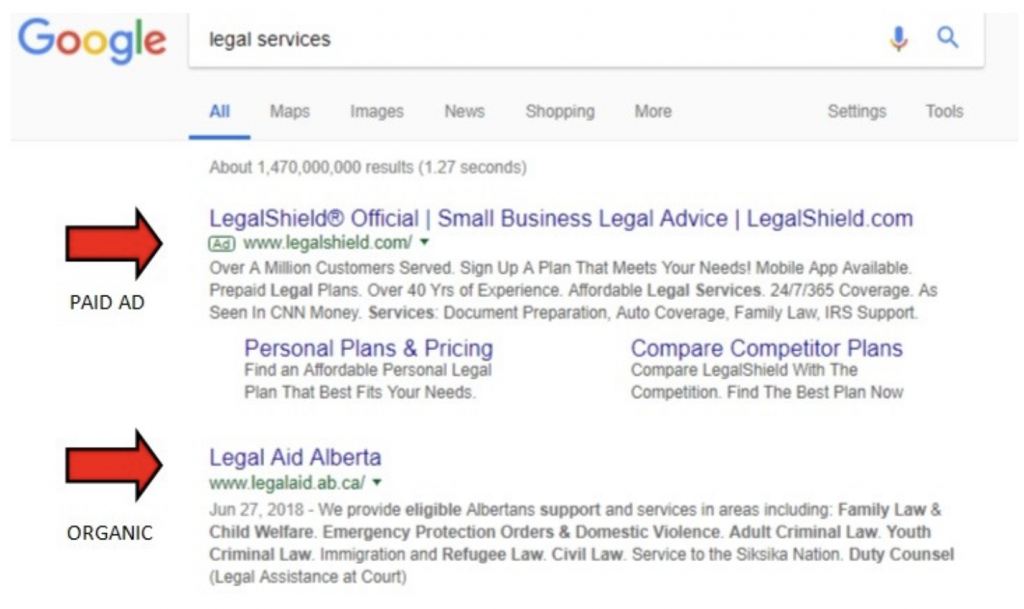 " The best place to hide a dead body is page two of Google." ~ WP Cookhouse
If done correctly, SEM can easily and quickly get your website showing up at the top of page 1 in a Google search. It's easy to measure the results because of the analytics that come with Google AdWords. But you will need a healthy budget to make sure your ad shows up. Once someone clicks on your ad you will get charged. Although, it's not a given that they will actually purchase from you.
SEO, if done properly, can build trust. One study indicates that listings on page 1 of a Google search get 92% of the traffic. The real issue with SEO is that it can take some time before your website starts to crawl up the ranks to show up on the first page of a search.
In order to have a strong presence online, a combination of SEM and SEO should be incorporated into your marketing strategy. The following table compares the two.

How to get Started
The very first thing you'll want to do is discover which keywords people use online when looking for what you have to offer. Both SEM and SEO are dependent on keywords as this is what Google uses to connect what people are searching for to your paid ads or website.
There are many tools that you can use to find out the best keywords with the most volume (how many people use it in a search) and the lowest difficulty (how competitive it is by how often it is used). These tools include SEM Rush, Mox and Screaming Frog to name a few. Google AdWords is free but you have to create an account to find the keywords.
How to Do It Yourself
You can get started on your own by creating a list of important topics for your business and industry. Here's a Beginner's Guide to Keyword Research that provides some insights for how to do it yourself.
Once you get those keywords in place, you'll want to incorporate them into both your SEM ads and your website. Setting up Google Ads can be a bit tricky, but you can start with a small budget to test results. Google has a great step-by-step process to help you set up your first campaign.
There are a few components to consider when optimizing your website for strong search results including the technical aspects and content onsite and the offsite optimization. The following gives some information about these factors.
"Successful SEO is not about tricking Google. It's about PARTNERING with Google to provide the best search results for Google's users." – Phil Frost
SEO Technical Aspect of Your Website
The functionality of the website requires the technical components are clearly written with the incorporation of keywords. This includes proper set up of:
URLs for each page
Page Title
Meta Description
Headers
Images
Anchor Text
Read more about setting up Page Titles and Meta Descriptions to get a feel for how to make a website's structure more relevant for a search.
Onsite Optimization
Onsite optimization means the content on your website is relevant to a search. Keywords should be embedded within the content and there should be sufficient content for Google to access. Google is like a library. Your content is the information stored in the library and when someone looks up something Google crawls through your website's content to see if what it says matches what someone is searching for. This is one reason why it's good practice to have a minimum of 800 words per webpage. Although you want to include keywords as much as possible, don't "keyword stuff." Instead, use the keywords as naturally as possible in your content.
Offsite Optimization
One of the most effective means of improving an organic ranking for your website is to have offsite backlinks. This means your website's URL is on another website that links back to yours. What's important is to not have random backlinks; seek to find reputable sources on which to add your URL.
Here's a good article for more information about how to earn relevant links.
It's the integration of technical, onsite and offsite optimization that will improve your ranking as shown below.
Conclusion
Developing strong SEM and SEO is something you can get started on your own. Take the steps to find out what keywords matter and invest some time and money into ads and improving your website's content.